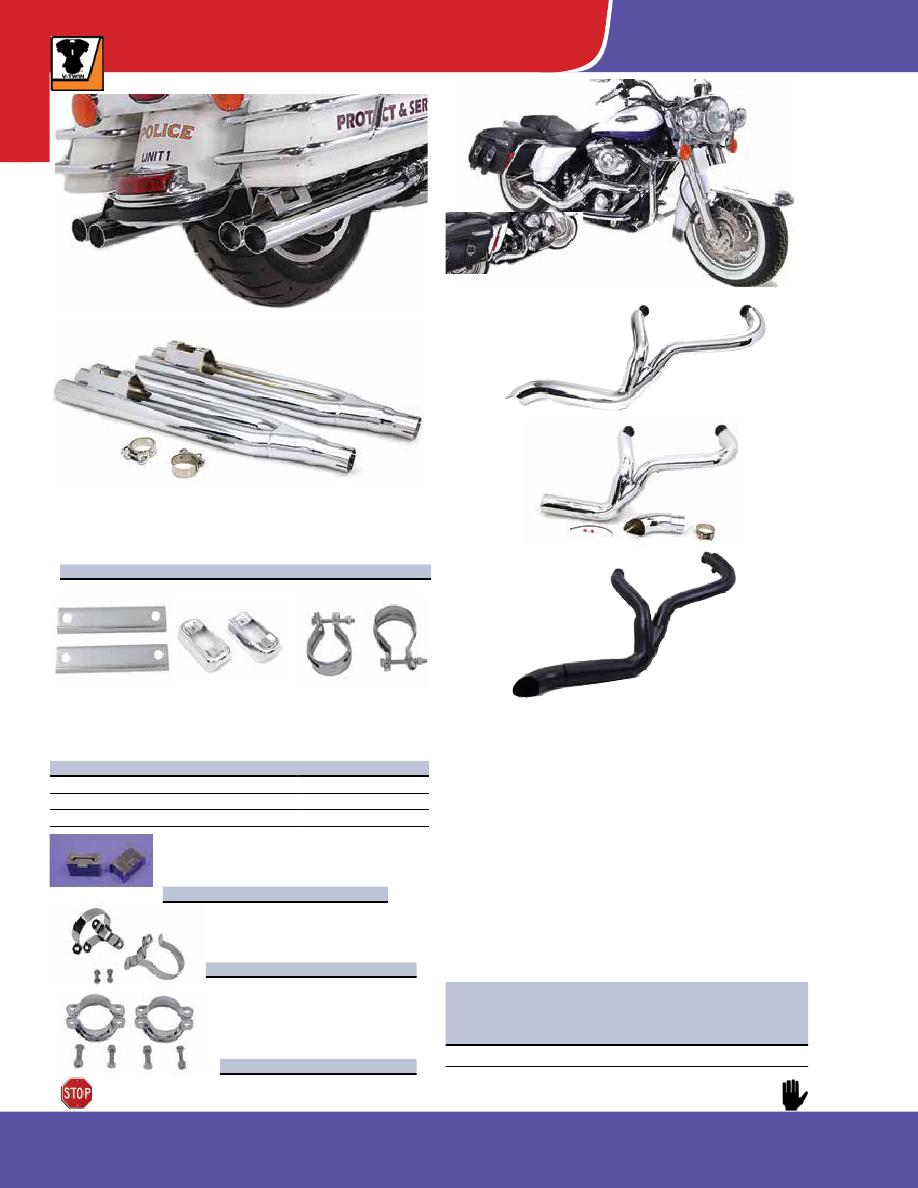 VT No.
Item
Fits
31-0598
30-0741
4" Muffler Bracket Cover Set FLT 1986-16
31-2136
End Clamp Set Custom application
Muffler Clamp and Bracket Set
• Hardware for various types of muffler fitments.
• Sold as a pair
31-0598
30-0741
31-2136
Dualie Straight Pipe Set
• Fits 1995-2016 FLT.
• 2 pipes on each side, hot rod style, with baffles.
• Ends are 2¹⁄₈".
VT No. 30-0847
FLT 2 into 1 Exhaust Header Set
• Features Lake Style 3" Big Diameter turn out ends that are
baffled, full coverage chrome heat shields and 1-3/4" header
tubes.
• Includes both 12mm and 18mm O2 sensor bungs and sensor
bung plugs for both bungs.
Available in black or chrome. Black sets include black headers
and black heatshields, chrome sets are available with black
headers and chrome heatshields or chrome headers with
chrome heatshields.
Turn out end is clamped on and will allow the installer to rotate
into the desired position.
NOTE: Maximize your motorcycles
performance and efficiency be complementing your new Wyatt
Gatling exhaust system with a fuel tuner management system
and/or EFI remapping. Remapping is suggested to optimize
performance while reducing the possibility of damage to your
motor or new exhaust system.
Chrome
Heatshield
and Chrome
Header
Chrome
Heatshield
and
Black Header
Black
Heatshield
and Black
Header
Fits
29-0045
29-0044
29-0047
29-0045
29-0045
Replica Chrome Muf-
fler End Clamp Set
• A replica replacement.
• Fit 1985-94.
VT No. 31-0450
Chrome 3¹⁄₄" Muffler
Body Clamp Set
VT No. 31-1560
Important Note:
Some items on this page may be emission-related parts subject to California or other emission control laws. Please see
note for important information regarding emission control regulatory compliance and warranty information.
30-0847
29-0047
29-0044
VT No. 28-0424
Rubber Insulator Set
• OEM# 65724-85.
• Fits 1985-up FLT.
74
WWW.VTWINMFG.COM
TOURING
Muffler Set