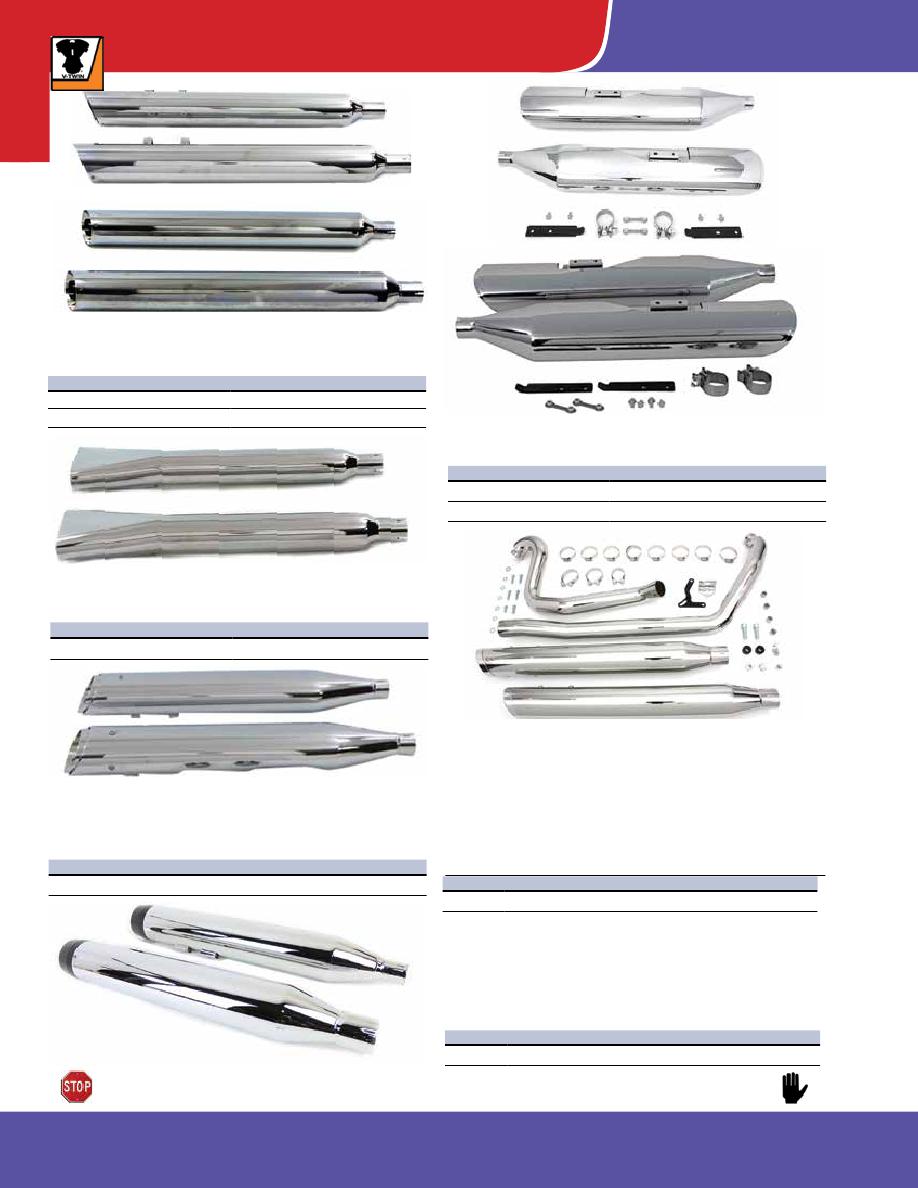 Twin Slash Monster Oval Slip-On Mufflers
• Vance & Hines FLT twin slash cut mufflers feature full cover-
age heat shields for blue proof protection.
VT No.
Fits
30-1570
30-1581
FLT, FLHT, FLHR 2009-2010
Twin Slash Oval Slip-On Muffler Set
• Complete your touring model exhaust system with Vance and
& Hines oval muffler set. The 4" diameter mufflers add a sub-
stantial power increase and crisper throttle response.
VT No.
Fits
30-1588
Slash Down Chrome Muffler Set
• To stock OE brackets and features removable baffles which
can be modified for alternate tuning characteristics.
VT No.
Fits
30-0626
30-0597
Wyatt Gatling Wide Oval Chrome Muffler Set
• With built in baffles. Oval shape measures 2¹⁄₂" X 5". This muf-
fler set has an overall length of 27¹⁄₄".
VT No.
Fits
30-0422
30-0626
30-0597
30-0422
30-1581
30-1588
30-1570
Important Note:
Some items on this page may be emission-related parts subject to California or other emission control laws. Please see
note for important information regarding emission control regulatory compliance and warranty information.
Chrome Bub 7 True Dual Exhaust System
• Includes performance headers, heat shields, and slash cut
mufflers. Chrome Bub 7 dual exhaust system utilizes perfor-
mance proven stepped header technology running from 1⁷⁄₈"
to 2". Without having the crossover tube you improve your mid-
range and top-end performance.
• Features 2¹⁄₄" 220° full coverage heat shields and 3¹⁄₂"
diameter mufflers with adjustable slash cut ends. Slash can be
fixed in the upward or downward position.
30-1555
VT No.
Fits
30-1555 1995-2016 FLHT, FLHTC, FLHX, FLHR, FLTR
• Features a chrome 29" body and 3" black tapered end tips
with a 4-1/2" outer diameter.
VT No. 30-1653
32" Muffler Set
VT No.
Fits
30-1653 Fits 2017-up FL.
72
WWW.VTWINMFG.COM
TOURING
Muffler