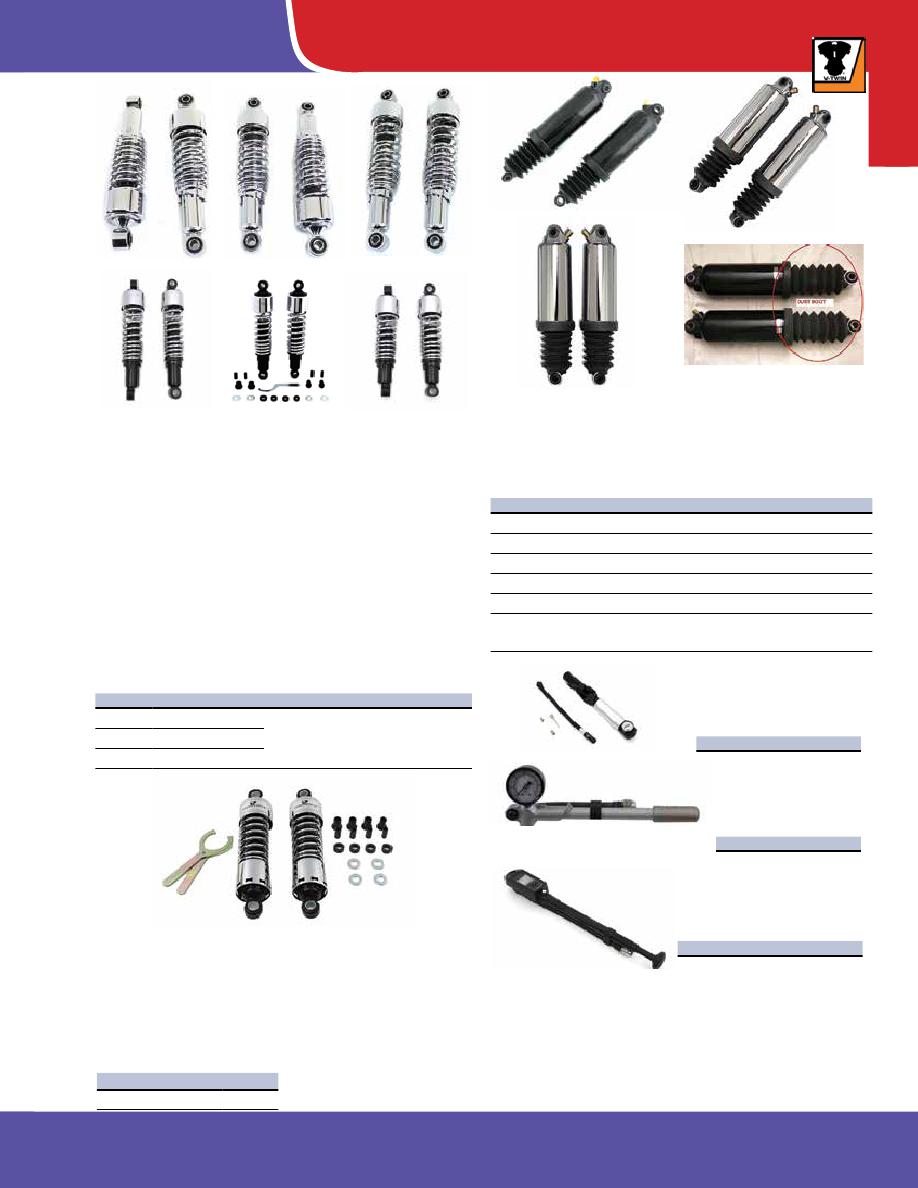 VT No.
Fits
54-0149* 2009-16 FLT, FLHT, FLHS, FLHR
54-0147 1997-08 FLT, FLHT, FLHS, FLTR & FLHR
54-0148 1991-96 FLT, FLHT, FLHS, FLTR & FLHR
54-0062 2007-up FLT, Valve Assembly
28-0535 Rear Rubber Boot Set 1997-2012 FLT
*Note: Will not fit lower 2009-16 FLHX, FLTRX, FLHTKL,
FLHTCUL, FLHRSE and FLTRSE.
Shock Pump
• Includes pressure
gauge replaces 54630-
03A from 0-60 PSI.
VT No. 16-0041
11"
11.5"
12.5"
54-0093
54-0033 54-2000
Chrome Low Touring Air Shock
• Lower the seat height without altering the ride.
• Low Touring Shocks have been re-valved for a comfortable
ride while lowering the seat height by up to ³⁄₄".
• The air adjustability feature of the stock shocks will be
retained.
16-0041
16-0578
Wyatt Gatling
Shock Pump
• Pressure gauge 0-60
PSI. Manually operated.
VT No. 16-0578
Digital Shock Pump
• Includes pressure gauge
replaces 54630-03A from
0-300 PSI.
VT No. 16-0002
54-0149
54-0147
54-0148
28-0535
Black
Chrome
Size Fits
54-0063 54-0039
85-up FLHT/ FLHR/ FLHX/ FLTR
54-0064 54-0040
54-0065 54-0041
Progressive Suspension 412 Series
Chrome Shocks
• Manufactured from the finest material available.
• Magnum 412 Series shocks are nitrogen charged with six-
stage automatic damping and an adjustable spring preload.
• Available with chrome spring and end caps, shock cartridge is
not chrome.
• All shocks are measured eyelet to center of eyelet.
• Fit 1980-04 FLT, FLHT, FLHS
16-0002
54-0039
54-0040
FLT Replacement Shock Absorbers
•Nitrogen-charged steel monotube damper bodies with hard
chrome-plated shafts
•Progressively wound springs for a smooth, comfortable ride
•Adjustable spring pre-load
•Mount with existing hardware
•Available in several lengths to suit most riding styles
•Sold in pairs
Note: Lowering the motorcycle will reduce ground and cornering
clearance.
Note: Before purchasing or attempting to install shocks that are
different than the OEM length, confirm that your wheel travel
can be altered without causing clearance issues such as swing-
arm/ axle to exhaust contact, as well as chain/ belt guard or tire
contact.
Note: OEM upper shock mount covers will not fit with these
shocks.
54-0041
54-0063
54-0064
54-0065
53
TOURING
WWW.VTWINMFG.COM
Shock