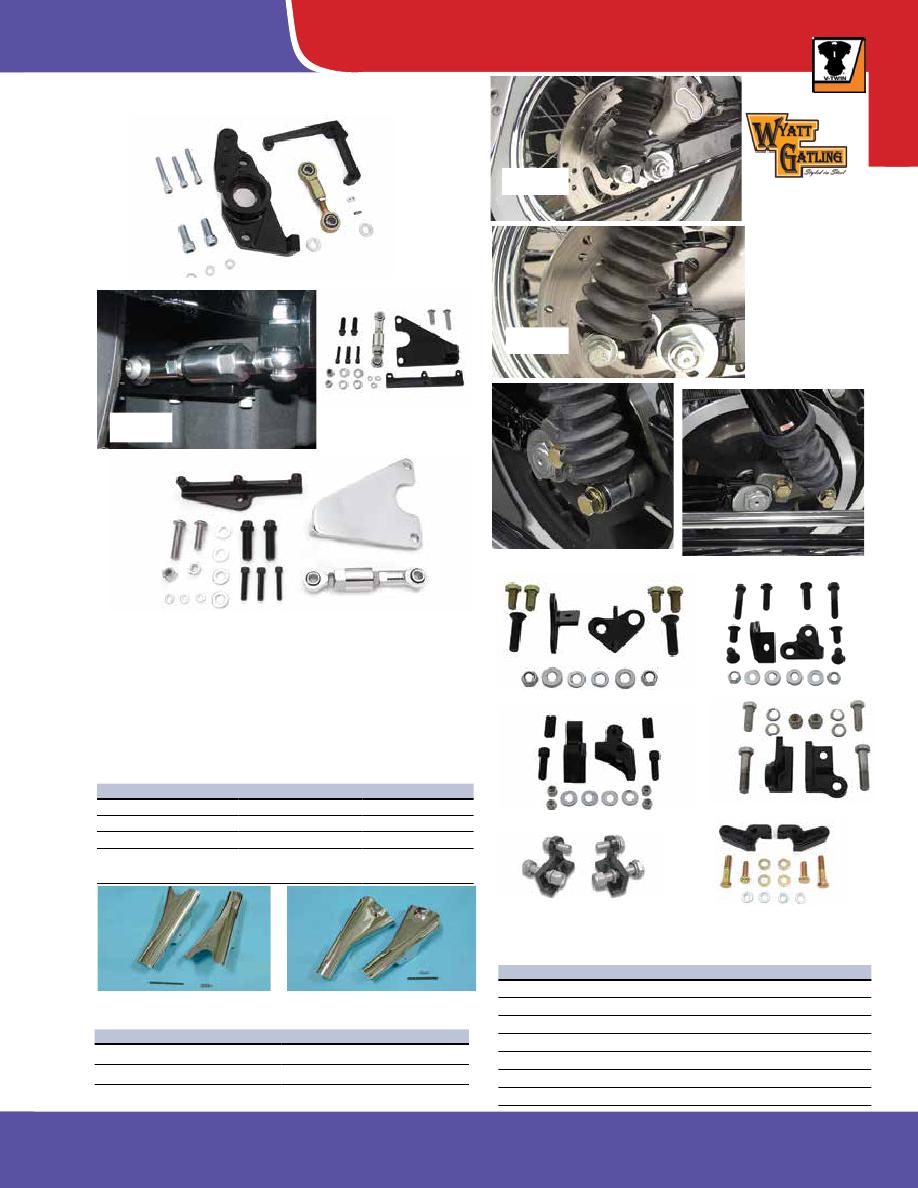 Touring Chassis Component
The Touring Torque Linkage System
• No modifications are necessary to install this unit. After the
unit is installed it will eliminate the lateral movement while still
allowing the Iso mounted factory design of the "floating" drive
train to move vertically as designed through connecting the rear
of the transmission case to the frame. The kit utilizes an isola-
tion link with a urethane plunger so there is no contact between
the frame and engine transmission assembly, therefore reduc-
ing vibration.
• 51-1602 includes outer mount bracket in chrome.
VT No.
Finish
Fits
51-1609
51-1601
51-1602
Note: Installation on 1993-2001 models require 27-1235 foot
peg spacer set as shown. Purchase 27-1235 separately.
51-1601
Installed
51-1601
51-1602
51-1609
Chrome Frame Trim Set
VT No.
Fits
50-1222
50-1223
50-1222
50-1223
54-0752 Installed
54-0534
Installed
54-0534
Installed
**Warning: Installing
a lowering kit or
shorter shocks will
decrease initial
ground clearance.
The motorcycle
will be lower to the
ground and care
should be taken to
avoid bottoming,
especially over
bumps or in turns.
Black Rear Shock Lowering Kits
• Lowers rear frame area.
• Includes instructions, hardware and black brackets.
VT No.
Fits
Lowers Frame Area
54-0508 1985-1996 FLT, FLHT
54-0521 1997-2001 FLT, FLHT
54-0534 2002-2003 FLT, FLHT
54-0125 2004-08 FLHT, FLHR
54-0752 2004-up FLT
54-0126 2004-08 FLHT, FLHR
54-0549 2009-up FLHT, FLHR
54-0508
54-0534
54-0125
54-0521
54-0126
54-0752
51
TOURING
WWW.VTWINMFG.COM
Lowering Kit