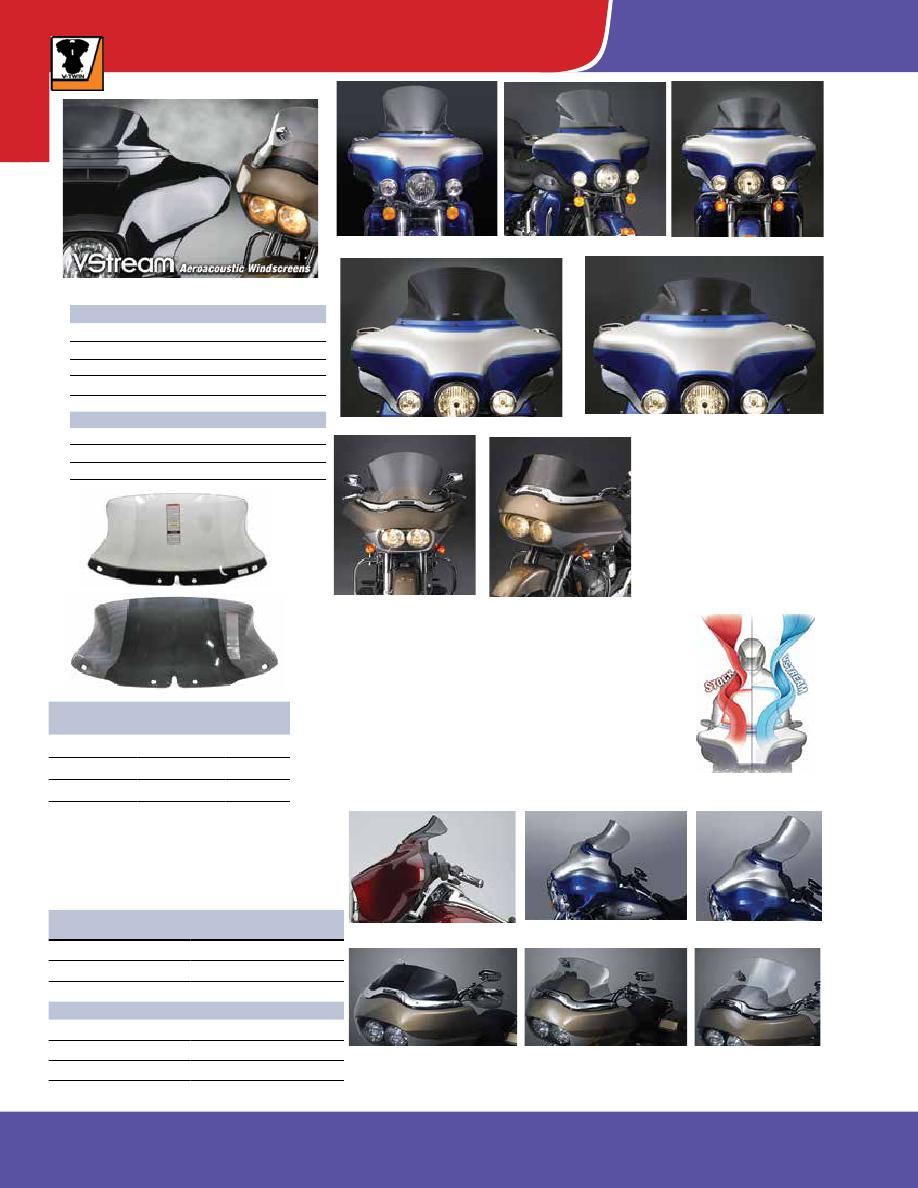 V-Stream Series Windshields
For FLHT 1996-13, FLHX 1996-13
51-0400
51-0401
51-0402
51-0404
51-0403
For FLTR 1998-2013
51-0405
51-0406
51-0407
For FLT 1996-2013, FLHX 1996-2013
VT No.
Tint
Height
51-0450
51-0452
51-0454
For FLTR 1998-2013
51-0451
51-0453
51-0455
51-0400
51-0403
51-0402
51-0404
51-0405
51-0407
51-0401
Wave Series Windscreen.
51-0451
51-0453
51-0455
51-0454
51-0452
51-0450
For FLHT 2014-up Electra Glide/Tri
Glide and FLHX (Street Glide)
51-0413
51-0414
51-0415
National Cycle Wave Windsreens offer riders a
custom look for baggers. Wave windsreens are
Quantum Hardcoated polycarbonante for unbeat-
able scratch resistance and impact strength.
Available in clear, light tint and dark tint.
The typical airflow pattern of the wake from most windscreens is
called a van Karman vortex. At speeds of 50-90 mph, the air swirls
off the windscreen in an approximate 90-degree segment of rotation,
hits the bottom of the rider's neck on the way up, and curves off the
shoulder at approximately 45 degrees.
The patented "V" shape is so quiet because it pushes this vortex out
and away from the side of the rider's head. The rider's helmet then re-
sides in still air, and the passenger's environment is greatly improved
as well.
Reduced wind noise... less turbulence... superior strength... perfect
style. The VStream revolution is here!
51-0415
51-0413
24
WWW.VTWINMFG.COM
TOURING
Windshield