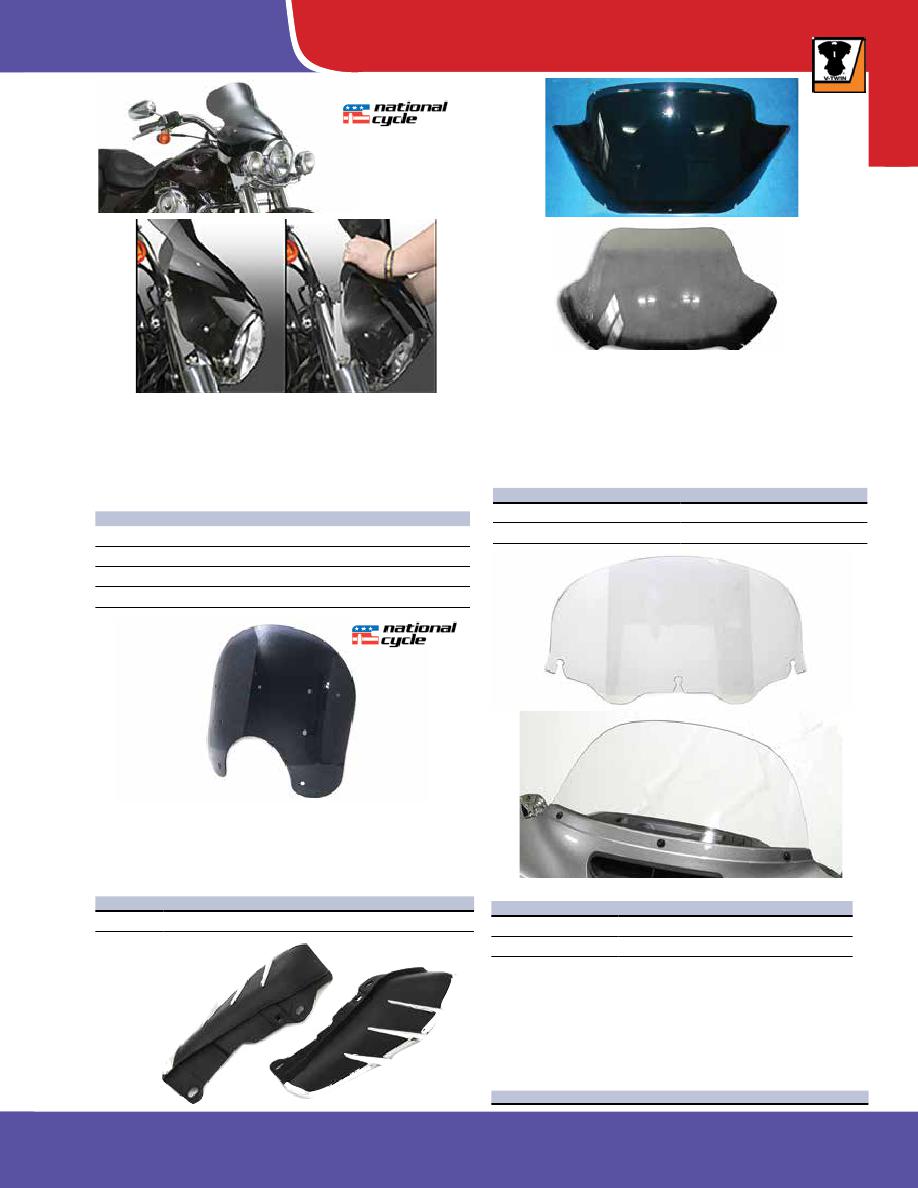 National Cycle Wave QR Windshield
• Manufactured from dark tint polycarbonate that features free
flowing lines, adjustable rake partitioning and quick release
mounting. Order mounting hardware separately.
•
10.50" (26.7cm) 18.00" (45.7cm)
*Note: Will not work with spotlight bar
VT No.
Fits
51-0281
51-0281
1998-14 FLHRC Road King Classic
51-0281
2004-07 FLHRS Road King Custom
31-9946
National Cycle FLHR Replacement Polycar-
bonate Shield
• Features pre-drilled mounting holes for use with stock
mounting hardware and is 33% thicker than original wind-
shield Available 13³⁄₄" tall dark tint. Fits 1994-up FLHR.
VT No.
Height
Color
51-0417
51-0417
10" Batwing Fairing Windshield
Clear
Smoke
OEM
Fits
51-0423
51-0448 57400227 2014-up FLHT, FLHX
51-0424
51-0449 58301-96 1996-2013 FLHT, FLHX
12" Wind Splitter Windshield
• A great look for all Touring models and is shaped for the
perfect combination of effective air flow management and style.
The sweeping design complements the shape of the fairing
and the inner dash panel and adds height over a traditional
low-profile wind-deflector in the center where it counts.
• The shape decreases wind noise and improves the ability to
hear the motorcycle's sound system.
51-0426
51-0425
50-0423
50-0424
VT No.
Fits
51-0425
51-0426
VT No. 51-0422
51-0422
Black Windshield Deflector
• Adds a touch of chrome to the Mid-Frame Air Deflectors.
These blend the look of chrome from the engine and help
make the deflectors integrated with bike. Mounts to the frame
below the seat for rider's comfort in the heat. The mounting
hardware, the thumb screw, must be ordered separately. Fits
2009-up FLT and Trike models equipped with Mid-Frame Air
Deflectors.
23
TOURING
WWW.VTWINMFG.COM
Windshield