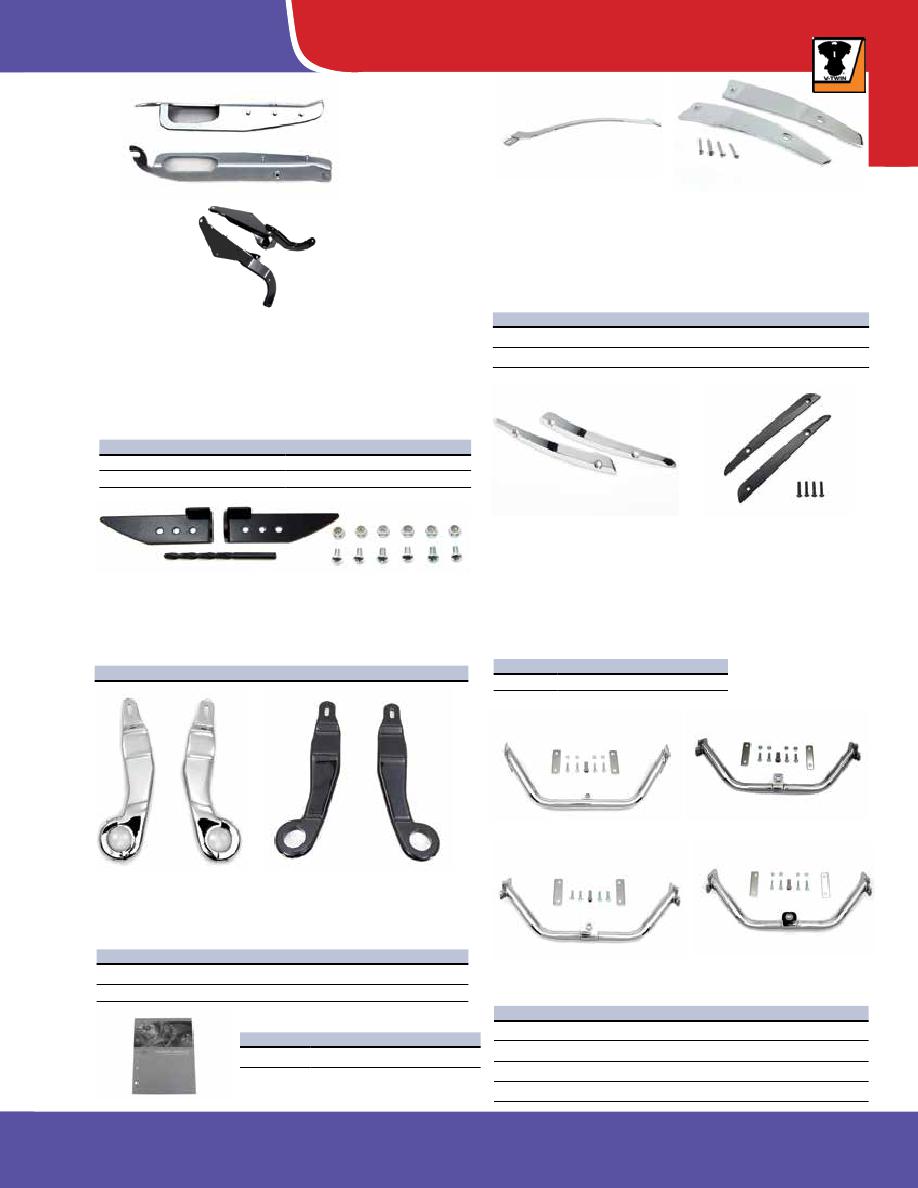 VT No.
Fits
51-0050
51-0051
51-0052
51-0053
51-0050
51-0051
51-0052
51-0053
Chrome Fairing Support Bar
FLT Upper Fair Bracket Repair Kit
• Repairs both left and right upper fairing bracket
without removal of upper bracket from motorcycle. Kit
includes left and right brackets and hardware.
VT No. 31-0344
VT No.
Fits
50-0616
50-0617
Fairing Support Kit
• For 2015-up FLTR Road King models
• Available in chrome or gloss black finish
• Clamps to engine guard
VT No.
Type
50-0278
50-0279
50-0278
50-0279
Heavy Duty Inner and Outer Fairing Support
Bracket Set.
• Made with thicker grade steel to eliminate breaking, which is a
problem on all Touring models.
• Each set has one left hand and one right hand support brack-
et included. Note: Hardware is not included. Fits all 1996-2013
FLHT and FLH models.
50-0616
50-0617
Road Glide Split Windshield Trim
• This easy to install 2 piece trim kit adds a speed-stripe accent
to the base of the windshield. Tapered from the leading to the
trailing edge, the glass-smooth trim features counter bored
mounting holes and flush-mount hardware for a clean elegant
look. Kit includes left and right trim installation hardware.
• Fits 2015-up FLTR
Chrome Black
OEM
42-0007 42-0235 57400299
VT No.
Item
42-1746
42-1747
Road Glide Windshield Chrome Trim
• Machined from billet and chrome plated these trim sets add a
chrome accent to the center and sides of fairing.
• The center trim will fit with original side trim (except on CVO
models). Side trim kit designed to be used with 42-1745 center
trim kits.
• Fits 2015-up FLT
42-1746
42-1747
42-0007
42-0235
VT No.
OEM
Fits
48-0718
Factory Spare Parts Book
21
TOURING
WWW.VTWINMFG.COM
Windshield