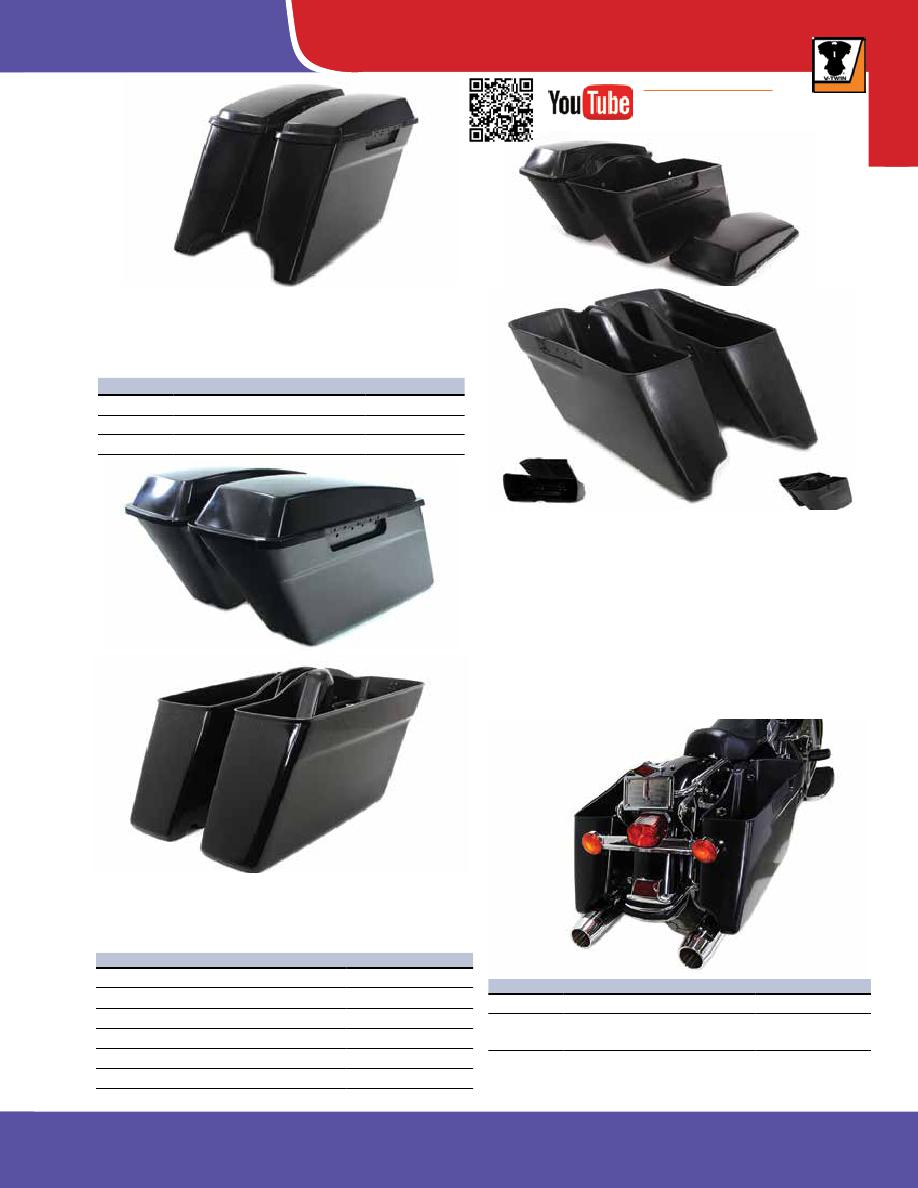 Deep Saddlebags
• Injection molded for smooth inside and outside surfaces.
• Full set includes left and right sides, lids and bottoms.
• Bottoms have indents for muffler body on the under side
with a slight curve down towards the rear.
VT No.
Item
Fits
49-3505
49-2667
49-0723
VT No.
Item
Fits
49-3500 Full Set, Tops & Bottoms
49-2712 Right Bottom
49-2713 Left Bottom
49-0535 Right & Left Bottom Set
49-2714 Right Bottom
49-2715 Left Bottom
49-3505
49-1135
VT No.
Item
Fits
49-1135
49-0749
Liner Kit; Includes liners for
bags and lids
•
Includes right and left side with black unfinished surface.
• This saddlebag set is a perfect fit with all mounting holes that
match stock locations, may re-use stock hardware for a true
bolt-on experience. All mount holes are pre-drilled in stock
location and pre-fit for the ease of installation.
• The bottoms are 2" deeper in the front than stock and 3"
deeper in the rear, which gives these the stretched look.
• Designed for models with dual exhaust.
• Complete hinge, latch, and hardware kit is available sepa-
rately for Road King riders looking to keep stock bags com-
plete or for converting from leather covered bags. Order lids
separately.
Watch Our Video!
http://www.youtube.com/
user/TeddCycle
49-1135
49-3500
49-1135
Stretched Saddlebag Bottom Set
49-0535
Note: For all Saddlebag Pieces and Tour Boxes made of Fiberglass
Reinforced Black Plastic, parts must be primed with paint then final
paint. The Raw FRP is not considered the finish.
Black Replica Saddlebags
• Plastic with a natural finish, ready for primer paint.
• Saddlebags are manufactured of FRP, fiberglass reinforced
plastic.
5
TOURING
WWW.VTWINMFG.COM
Saddlebag