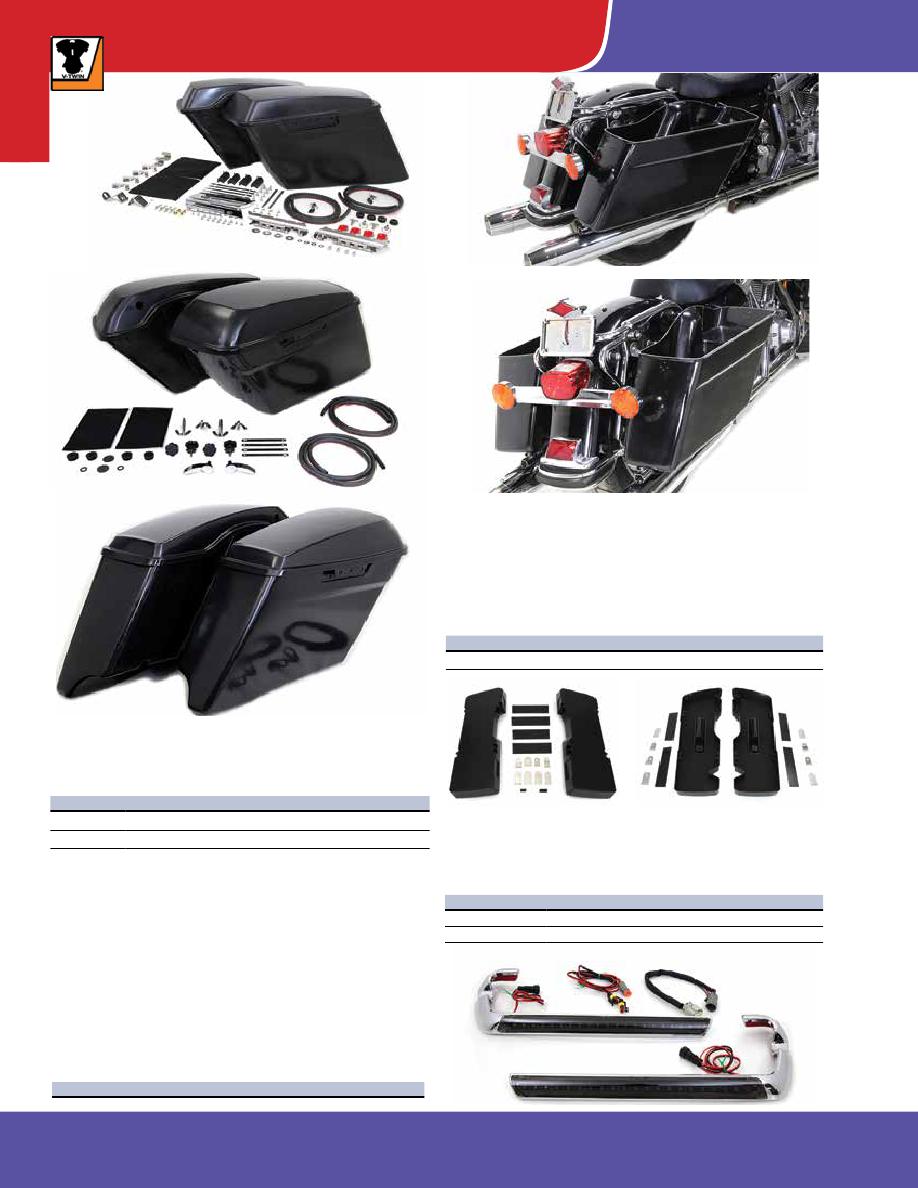 3" Stretched Saddlebag Kit.
• Includes bags, lids, face plates, locks and mounting hardware.
• Bags are injection molded and have a smooth inside and
outside surface. Bottoms are 2" deeper in th front, 3" deeper in
the rear and have cutouts on both bags for dual exhaust.
VT No.
Fits
49-3506
49-3507
49-3506
49-3507
49-0535
Black Saddlebag Bottom Set
• Constructed from a black PVC material, ready for primer and
paint!
• Locks and hinges not included. Bags will accept OE or V-Twin
lids and related hardware, available separately.
• All pieces are constructed of black fiberglass and reinforced
FRP plastic, ready for primer and paint. FRP is made up of
Polyphenylene oxide/Polyamide alloy.
49-0535
VT No.
Fits
49-0535
Saddlebag Tool Tray Set
• Made of ABS plastic. Trays cover the length and width of the
saddlebags.
• Easily lift the tray out with one hand when needed.
VT No.
Fits
49-2679
49-2680
49-2679
49-2680
Note: For all Saddlebag Pieces and Tour Boxes made of Fiberglass
Reinforced Black Plastic, parts must be primed with paint then final
paint. The Raw FRP is not considered the finish.
VT No. 49-0000
Saddlebag LED Lamp Kit
• This wrap-around Side Marker Light Kit adds light to the
lower edge of the saddlebags. Available with red lens, the
bright band of LED lamps is housed in a chrome frame that
hugs the bottom of the saddlebag. The low-profile self-adhe-
sive lamps can be installed on models equipped with stan-
dard-length saddlebags, and are compatible with optional
saddlebag guard rails. Easy to install kit includes left and right
lamp and quick-disconnect wiring harness.
• Fits 2014-later Touring models with hard saddlebags. Not
compatible with models equipped with Stretched Saddlebags.
49-3507
4
WWW.VTWINMFG.COM
TOURING
Saddlebag